IHS elects new officers

Patty Landers Caperton was elected President of the Irving Heritage Society at the June 1 Lemonade on the Porch general meeting. Patty has most recently served as chair of the reconstruction of Mary's Playhouse located just behind the Heritage House as well as co-chair of the annual Treasures and Oddities sale. Additionally the following officers were elected: Kaye Ward-President Elect, Doug Fox-First Vice President/Membership, Jo-Ann Bresowar-Second Vice President/Programs, Diane Mannon-Third Vice President/Project, Sandra Cole-Recording Secretary, Velma Edwin-Corresponding Secretary, Stacey Martin-Treasurer, Kevin Kendro-Historian, and Janice Carroll-Parliamentarian. New directors include Lea Bailey, Kathy Howard, Rosalie Howard, Patrick Shields, and Vicki Tate. Installation was conducted by former Heritage Society President Chris Wallace.
Guests at the June meeting included Rick and Susan Fairless who shared their vision for the new Big State Fountain Grill.
Additional information on the organization's activities may be found by calling 972-252-3838.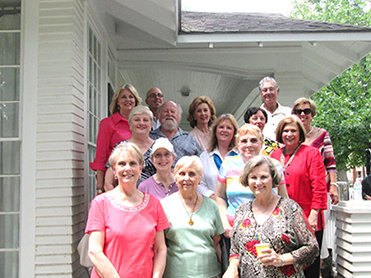 Front row: Patty Landers Caperton, Velma Edwin, Kaye Ward Second row: Chris Dobson, Diane Mannon Third row: Jo-Ann Bresowar, Stacey Martin, Janice Carroll Back row: Elizabeth Philipp, Chris Wallace, Patrick Shields, Kathy Howard, Rosalie Jensen, Dan Niemeier, and Anne Pfaff