The 7th Annual Celebrating Irving

The City and The Man activities concluded with the final rounds of the Irving Trivia on May 3. All of the trivia teams were strong this year and four of them advanced to participate in the final rounds. The Greater Irving – Las Colinas Chamber of Commerce and the Irving City Council were defeated by the Irving Convention and Visitors Bureau and the La Cima Heritage Committee. Friends when they arrived and friends when they left, the team members showed no mercy for their opposition during the matches. Each team was determined to win the trophy and the bragging rights.
Mother and daughter Anne and Diana Pfaff on opposite teams had equal competing spirits in the very final round. After depleting all of the trivia questions and tie breakers, the ICVB team finally emerged victorious and declared the new champions over last year's winners the La Cima Heritage committee.
The month long series of events was sponsored by the Irving Heritage Society, the Irving Independent School District, the Irving Public Library, the Irving Black Arts Council and the City of Irving. This program was made possible in part with a grant from Humanities Teas, the state affiliate of the National Endowment for the Humanities. It was also funded in part by the City of Irving though the Irving Arts Board.
For additional information, call 972-252-3838.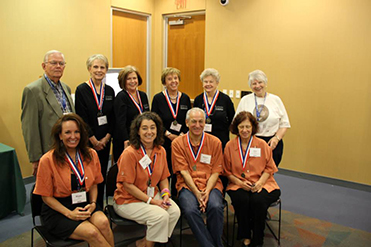 SEATED: Irving Convention and Visitors Bureau 2014 Champions – Diana Pfaff, Maura Gast, Robert Martinez, and Jane Kilburn.
STANDING: Emcee Dan Matkin, La Cima Heritage Committee team – Patty Landers Caperton, Janice Carroll, Anne Pfaff, Virginia Meler, and event chair Mary Higbie.