Heritage House Tours

Back by popular demand, the monthly tour of the Irving Heritage House will feature a display of the bridal gowns of yesteryear. Gowns dating from the 1880s to a mid-century informal gown from the 1950s will be displayed. The 1903 gown, coat, and shoes ensemble of Agnes Sueppel Schulze, wife of Irving co-founder J. O. Schulze will be included. The 1880 gown features a bustle.
The Irving Heritage House will be open over the holiday weekend on July 6, Sunday, from 3pm - 5pm. Docent led tours will begin at 3pm and 4pm. Admission is free. Built in 1912 by C.P. Schulze, brother of one of Irving's co-founders J.O. Schulze, the Heritage House is a restored pioneer home. This Texas State Historical Landmark is located at 303 S. O'Connor.
Many beautiful antiques are throughout the Heritage House. Some of the furnishings include an 1840 clock, an organ (ca.1880), a square piano (ca.1860), Limoges, Sevres, and Bavarian porcelains, and many more items from the past. For more information call 972-252-3838. Group tours may also be arranged at alternate times.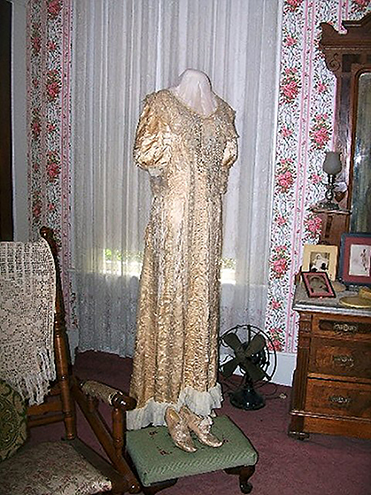 Agnes Sueppel Schulze wedding gown