Regina Story selected as the Irving Heritage Society 2015 Sweetheart

The Heritage House was abuzz with guests greeting old as well as new friends during the vintage Valentine Tea on Sunday, February 8. Dr. Clay Gilbert provided back ground music at the piano. Favorite treats were compared by guests from the elegant tea table at which several past Heritage Society presidents poured coffee or tea and served punch from the beautiful silver service. Many of the tea recipes reflect back to the original 1914 housewarming party given by C.P. and Virginia Schulze in their new home. Tea chairs Anne Pfaff and Kitty Boyle coordinated the special event. The weather was so beautiful that some guests enjoyed seats on the porch swing and the rockers outside.
Half way through the afternoon, Heritage Society President Patty Landers Caperton asked the guests to focus their attention to the living room for a special announcement. It was the revealing of the selection of the Heritage Society 2015 Sweetheart – Regina Story. At the conclusion of her term as President in 2005-2006, Mrs. Story did not "retire" from service to the organization. Instead she took on the task as Whistle Stop editor of the Heritage Society's newsletter and served admirably in that role for several years. She additionally served on the finance committee. Mrs. Story and her husband George also presided over one of the Heritage Society's prestigious Bracebridge Dinners as Lady and Squire.
Mrs. Story was a city council appointee to the first Irving Museum Board and was the only woman on the board. Her interest in history and museums comes naturally as her father Harry Patterson started the Delta County Patterson Memorial Museum in Cooper, Texas. The Irving Heritage Society will be providing a donation to the Patterson Museum in recognition of Mrs. Story's dedication and service to the Irving Heritage Society.
The Heritage Society will resume monthly tours of the Heritage House on the first Sunday of the months March – December on March 1. For more information about other events and activities of the Irving Heritage Society, call 972-252-3838.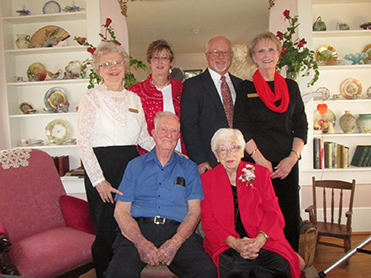 Front row: George and Regina Story. Standing: Past President Eleanor Bell, Mrs. Story's daughter-in-law and son Katy and Richard Hurst, and Heritage Society President Patty Landers Caperton.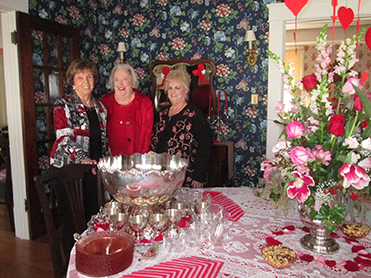 Tea co-chairs Anne Pfaff and Kitty Boyle plus Tea flower chair Carol Susat.