Dr. Lea Bailey elected as President

Dr. Lea Bailey was elected President of the Irving Heritage Society during the May 7th general meeting and ice cream social on the front lawn of the Irving Heritage House. Following the installation of the officers and directors by Dr. Walter Betts, Texas Library Association Immediate Past President, Dr. Bailey provided a year in review of the Heritage Society's special activities including a listing of the history of each of the Irving Independent School District elementary schools on the Heritage's website. She offered appreciation to the many volunteers for their time and service. Looking ahead, Dr. Bailey noted that the upcoming next year will include the 100th anniversary of the birth of Mary Schulze as well as the 40th anniversary of the founding of the Irving Heritage Society.
For additional information regarding the Heritage Society, contact 972-252-3838.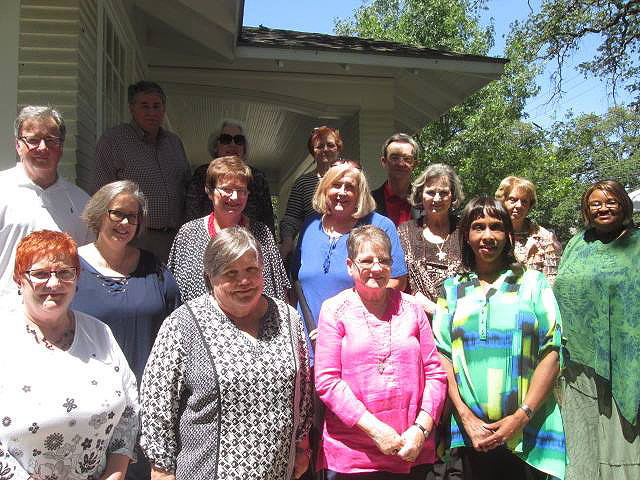 First row – Shrley Smith, Carol Lucas, Jan Bodnar, Gail Norris
Second row – Mark Murray, Linda Shotwell, Lea Bailey, Pamela Slaughter, Kaye Ward, Anne Pfaff, and Jearlene Miller
Back row – Gary Westerman, Kitty Boyle, Mary Ann Caster, and Thomas Smith