Red River Bridge Controversy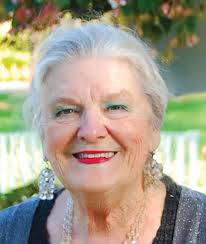 Rose-Mary Rumbley shares the story of the Red River Bridge Controversy
No one can tell a story quite like Rose-Mary Rumbley. Historian, author, story teller and actress, Dr. Rumbley will be the guest speaker on Sunday, November 12, at 2:15pm for a program sponsored by the Irving Heritage Society and the Irving Public Library at the South Library, 601 Schulze Drive.
The Red River Bridge Controversy between Texas and Oklahoma, sometimes called the "Red River War" occurred in July 1931 over the opening of a newly completed free bridge, built jointly by the two states, across the Red River between Denison, Texas and Durant, Oklahoma. The 1931 conflict between Texas and Oklahoma had lasting consequences.
The public is invited to attend. Refreshments will be served. A brief business meeting by the Heritage Society will take place at 2pm, and the program will follow immediately. Free parking. Additional information visit call 972-252-3838.
For additional information regarding the Heritage Society, contact 972-252-3838.