Tableaux Vivants - Grant Wood Meets Irving Texas

Celebrating Irving: The City and The Man will begin a month of programs on Saturday, April 7, with the "Grant Wood Meets Irving Texas, Tableaux Vivants." It will be held at the Singley Auditorium, 4601 N. MacArthur and begins at 7pm. Admission is free. Door prizes awarded.
Singley drama and art students have created living pictures of some of the famous paintings by artist Grant Wood. This American artist is known around the world by his famous painting of American Gothic . Wood was a leader in the Regionalism style of painting with his images of the rolling hills, corn fields of Iowa, and painting landscapes and people that he knew so well.
For the complete month long schedule, click here for calender of of events or call 972-252-3838. All events are free and open to the public.
Celebrating Irving is funded in part by the City of Irving through the Irving Arts Board, Humanities Texas, the state affiliate of the National Endowment for the Humanities, Irving Schools Foundation, Irving ShareTank, the Irving Heritage Society, and many generous individuals. Sponsoring organizations include the Irving Heritage Society, Irving Public Library, Irving Independent School District, Irving Art Association, Irving Black Arts Council, Boy Scout Troop 773, Irving Arts Center and the City of Irving.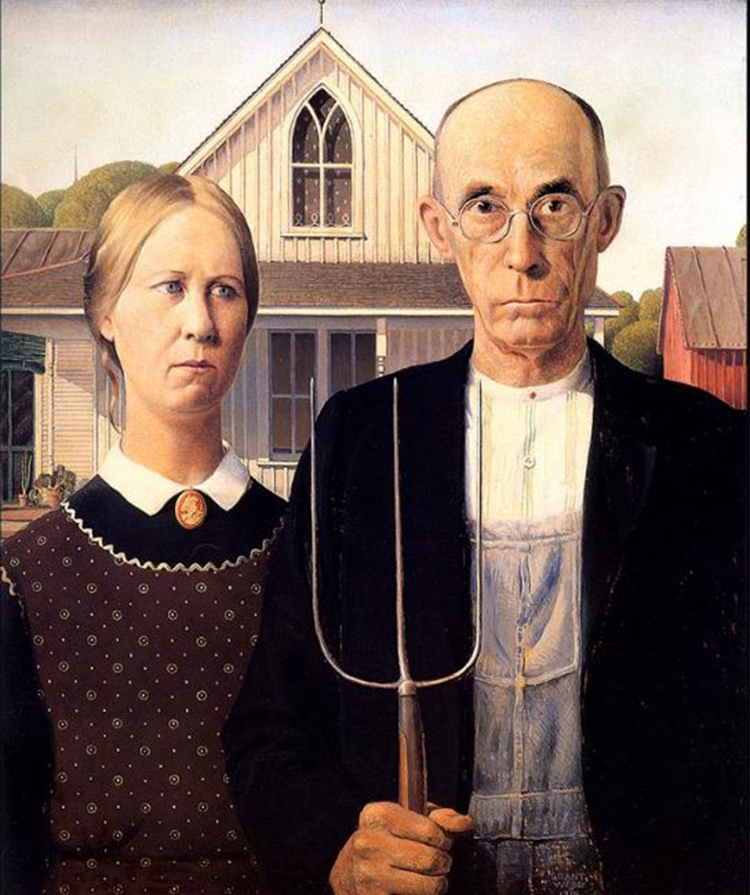 American Gothic by Grant Wood Art Institute of Chicago

Art@Figge Art Museum, successors to the Estate of Nan Wood Graham/Licensed by Vaga, New York, NY