Cloggers entertain visitors to the Heritage House

It was a fun day with lots of toe tapping by the audience as well as the cloggers. Councilman Oscar Ward and his wife Kaye were among those who agreed to try out a few clogging steps. We have been adding some additional entertainment for visitors who come to the Heritage House for the First Sunday Tours.
The Dixie Grand Cloggers entertained visitors to the Irving Heritage House on Sunday, November 2, during the regular tour hours. Glen McCrary established the group in 1998 and they have gone on to proving their talents through competitive dancing as well as many performances across the Metroplex. Some of the Sunday guests even took a turn at a few steps.
Next up for Sunday@Heritage House will be Sunday, December 7, from 3pm-5pm. Music, refreshments and tours of the 1912 Recorded Texas Historic Landmark will be offered. For more information, visit www.irvingheritage.com or call 972-252-3838.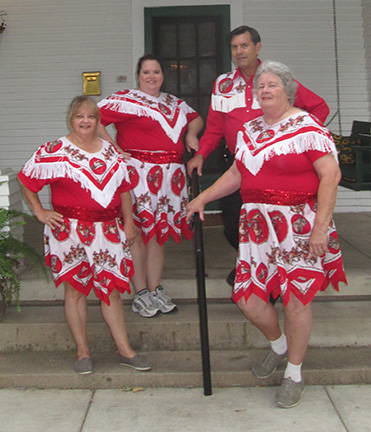 Dixie Grand Cloggers