"Dr. Clay W. Gilbert's home is now listed on the National Register of Historic Place.

Dr. Clay W. Gilbert was greeted with cheers and applause as he announced to the Irving Heritage Society board on September 5 that his home has been selected to be listed on the National Register of Historic Places. It is the very first such recognition within the City of Irving and is quite a distinction. The Gilbert home was built in 1919 by A. Fred Joffre as his own dream home. It is located at 309 South O'Connor Road, originally listed as 309 Iowa Street. Dr. Franklin Monroe and his wife Dorothy purchased the home in 1939. Dr. Clay W. Gilbert has owned the home since 1977.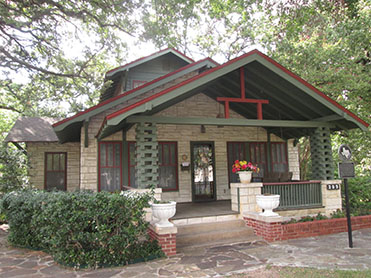 Joffre-Gilbert Home 2014
The Joffre-Gilbert home is a 2 story, frame, Craftsman Style bungalow, often referred to as an "airplane bungalow" based on its wide, low, front-facing gable end and centrally-placed and cockpit-like second floor. Originally clad in wood clapboard siding, the first floor siding was covered in Perma-Stone in 1947-1949. The front porch is notable for its unusual open-timbered gable and modified "cross log" support columns.
Dr. Franklin Monroe Gilbert had followed in the footsteps of his father, Dr. Daniel W. Gilbert, in providing medical care to the community. Dr. D. W. Gilbert was the first physician and pharmacist in Irving, beginning as early as 1878. Dr. F.M. Gilbert began his medicine in 1920 in the community. Dr. F. M. Gilbert opened Irving's first clinic, a ground-breaking facility that provided comprehensive 24-hour care in the absence of an area hospital. He was Mayor of Irving (1932-1937) and was on the board of the Irving State Bank and its later iterations for fifty years, serving as president from 1938-1954. Gilbert was elected to the board of trustees of the Irving Independent School District, serving ten consecutive years among other community roles. Together Dr's D.W. and F.M. Gilbert provided leadership and compassionately served the Irving area community for a century without interruption. This included provision of care to the poor with little or no compensation and to the African American community in a time of racial division and segregation.
The National Register of Historic Places was awarded based on two criterions:
B. Property is associated with the lives of persons significant to our past.
C. Property embodies the distinctive characteristics of a type, period or method of construction or represents the work of a master, or possesses high artistic values, or represents a significant and distinguishable entity whose components lack individual distinction. Listing in the National Register of Historic Places provides formal recognition of a property's historical, architectural, or archeological significance based on national standards used by every state. It was awarded to the Joffre-Gilbert Home by the United States Department of the Interior, National Park Service – National Register of Historic Places on August 1, 2014. A plaque is being crafted to be placed in front of the home at a later date. For more photos related to this storey, CLICK HERE.