Irving Convention and Visitors Bureau go home with the Irving Trivia Trophy and Bragging Rights

The City and The Man is finished for another year. It was a hard battle but the Irving Convention and Visitors Bureau team went home with the trophy and bragging rights once again. They first had to win over the Entertainment Series of Irving team and that was not so easy. It took the regular questions plus 27 tie breakers to qualify to move on to the next round on April 30 at the Valley Ranch Library. Last year's winning team from the La Cima Heritage Committee first had to also square off against the Irving Senior Arts Program team before coming up against the ICVB group for the final round. Finally the moment was there for these two strong teams. Mother Anne Pfaff against daughter Diana Pfaff provided no favoritism in this competition. Members of the winning ICVB team included Maura Gast, Diana Pfaff, Joe Philipp, and David Cole, replacing team member Robert Martinez from the preliminary rounds.
It was all in good fun in this competition which throws out all rules except one……..no cheating. Teams swapped players to fill in vacant slots, everyone cheered when the answers were correct, and all celebrated afterwards with a Texas sized birthday cake in honor of Washington Irving 233th birthday. The activities were sponsored by the Irving Heritage Society, Irving Public Library, Irving Independent School District, Irving Black Arts Council, Irving Art Association, City of Irving and the National Scouting Museum. This program was made possible in part with a grant from Humanities Texas, the state affiliate of the National Endowment for the Humanities, a grant from the Irving Schools Foundation, was funded in part by the City of Irving through the Irving Arts Board and a generous community gift honoring Betty Jean Ramsey Huffman.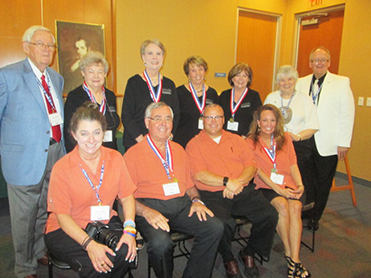 Final Seated – ICVB team - Maura Gast, Joe Philipp, David Cole, Diana Pfaff | Standing – Honorary Emcee Dan Matkin, La Cima team Virginia Meler, Patty Caperton, Anne Pfaff, Janice Carroll, Celebrating Irving Chair Mary Higbie, Finals Emcee Gary Schepf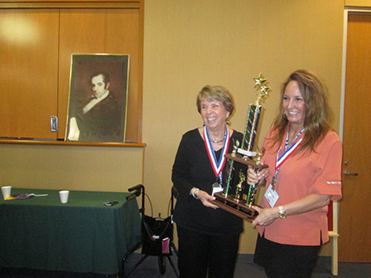 Anne Pfaff and Diana Pfaff